Scam or Contravention of the Principle of Conservation of Energy ?

Placed on the internet 19 March 2006, no repeat of these adverts since then till and including 12 August 2006, of this update.
There is no provision for any powered electronics inside a box far too small to otherwise act as an antenna.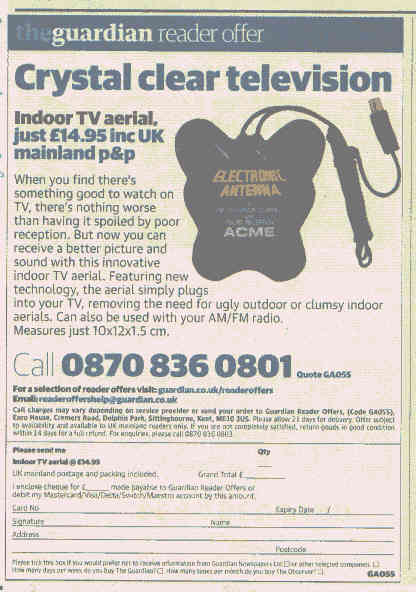 Guardian Acme 'electronic antenna' ad from 11 March, 2006
Quote
the guardian reader offer
Crystal Clear television
Indoor TV Aerial
just £14.95 inc UK mainland p&p
When you find there's something good to watch on TV, there's nothing worse than having it spoiled by poor reception. But now you can receive a better picture and sound with this innovative indoor TV aerial. Featuring new technology, the aerial simply plugs into your TV, removing the need for ugly outdoor or clumsy indoor aerials. Can also be used with your AM/FM radio. Measures just 10 x 12 x 1.5cm.
End Quote

I am tired of seeing adverts for these 'products'. I refuse to spend 15 GBP , about 30 USD, on one of these just to break it open to prove myself correct. The scam works in the small print "If you are not completely satisfied, return goods in good condition within 14 days for a full refund". None of them can work as they are not electronic and can work no better than a bent wire coat-hanger stuffed in the aerial socket - and they are free. A wire coat hanger will retain the shape and orientation for best reception. This scam antenna is just the two pieces of floppy wire you can see in the adverts coiled up between the box and the TV aerial plug. The 1994 version of this scam the price was pitched at 5GBP , low enough that the scammers decided most would not bother getting a refund. The price is now pitched at 15 GBP which just shows how gullible Guardian newspaper readers are. Adverts for this 'product' have appeared on
2005
08 Feb, page 24
02 Mar, p28
11 Mar, p27
15 Mar, p28
29 Mar, p17
21 Ap, p20
05 May, p21
07 June, p12
15 Jun , p24
01 July, p5
26 July, p25
04 Aug, p24
20 Aug, p4
07 Sep, p24
18 Oct, p35
14 Nov, p27
28 Nov, p34
09 Dec, p39
12 Dec, p31
2006
19 Jan, p20 of G2
04 Feb , p30
11 Feb, p68 Weekend
11 Mar, p28
15 Mar, p20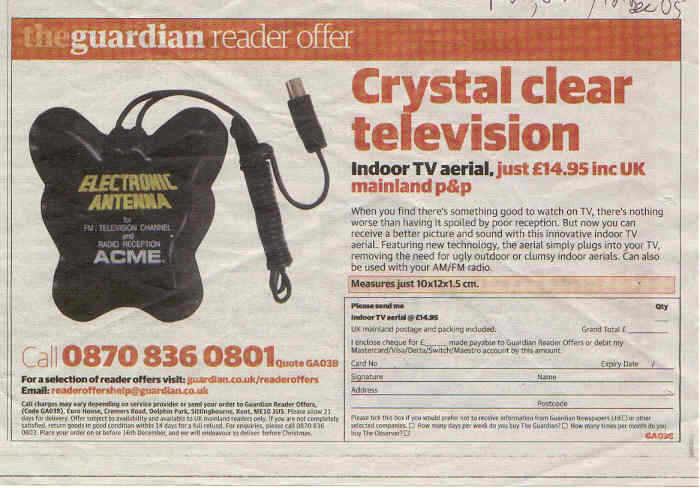 Acme 'electronic antenna' ad 12 Dec 2005
From one company selling these 'products'
http://www.hss.uk.net/index.php?main_page=product_info&products_id=17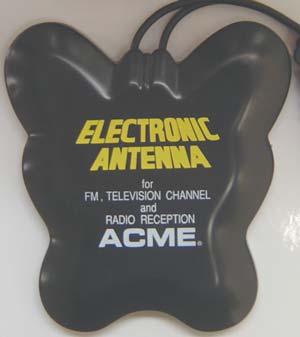 Acme 'electronic antenna'
Also 'product' line number 1097 entered into search box of
http://www.easylifegroup.com/eshop/basket.asp
No reply to my fax and email of complaint to the editor of the Guardian newspaper of 08 Feb, 2005 and adverts continued
A reply of sorts from Ben Goldacre the so called Bad Science reporter of the Guardian, to an email from me
"ok, i'll get onto these jokers..", 11 Jan 2006
Nothing heard since, well you don't shit on the hand that feeds you!, 5 more of these adverts in the Guardian since his reply.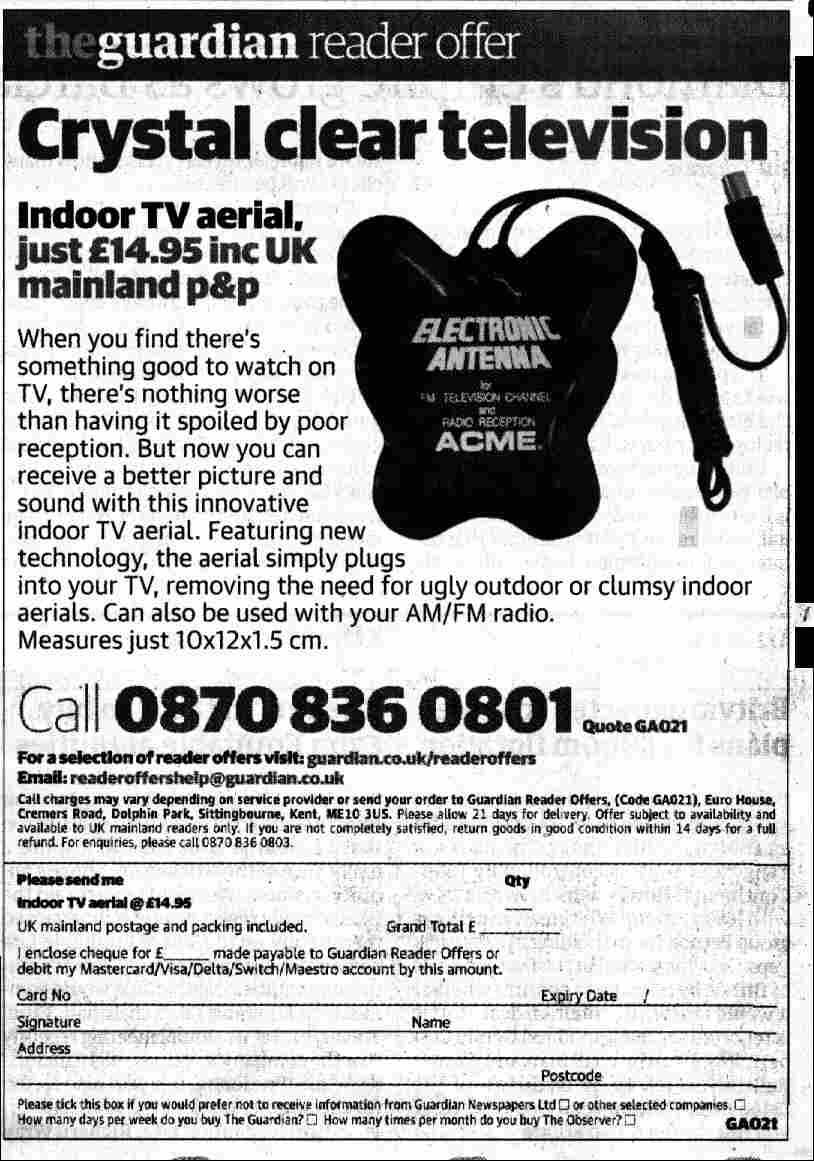 Guardian Acme 'electronic antenna' ad Nov 14, 2005
Trading standards do nothing on just reports about contravention of Conservation of Energy and history of this scam, they wait until someone breaks open one of these, loses their 15 quid refund and hands over to trading standards with no recompense at all.
Originally aired on Usenet , uk.legal etc February 2005,on thread heading
"Scam product for sale in Guardian newspaper, allegedly"
I would not mind betting that this 'product' has its case plastic welded closed if its like the previous proven scam in 1994.

Anyone with one of these non-functional so-called antennas, if they are prepared to cut or crack open and photo the innards and emailing to me , I would be interested in receiving a copy.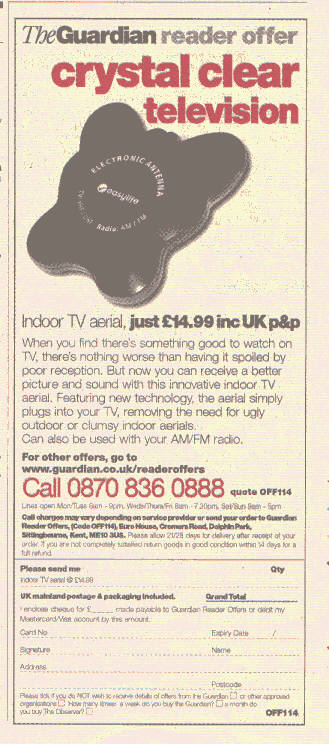 Guardian 'electronic antenna' ad from 4 Aug, 2005 when it was the Easylife , someone must have thought the name Easylife was too much of a give away.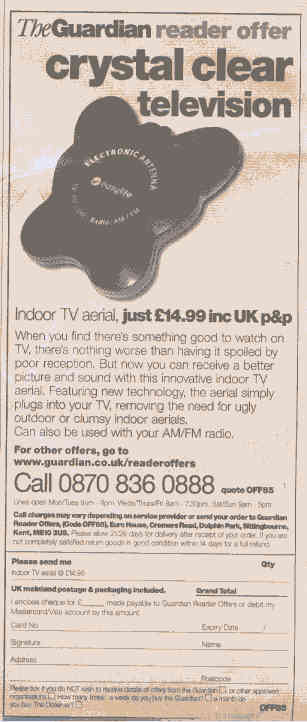 Guardian 'electronic antenna' ad from 08 Feb, 2005 when it was the Easylife , alright for some.

In 2009 it pops up again this time in the Radio Times http://radiotimes.easylifegroup.com/products/1097.asp "TV & Radio Antenna for crystal clear reception Many of us suffer with 'snow', 'ghosting' or poor reception, which spoils our favourite programmes. This tiny indoor antenna will help you receive a crystal clear reception on your TV. Not only does this new technology bring you long awaited high quality TV reception but it also works with AM/FM radio. Simply plug into your TV or radio and you will instantly obtain a better picture and sound, without the need for ugly outdoor or clumsy indoor aerials. £12.95" Must be an effect of recession , the price above which someone has determined will only then go about reclaiming their money back, has dropped to 12.95 GBP.


History
1994
Scam closed down Nov 1994 when it was previously advertised in the UK. Different shaped plastic box (heart shaped) but once the case was cracked open the scam was plain to see. The 2 wires on the lead for the TV were soldered together to one point on a board. Nothing on this board except a hand drawn shape in copper resembling a small christmas tree. No electronics of any technology and no power source. It was an out and out scam. They must have made a fortune out of it as their adverts were half page, full colour, in most of the UK colour supplements.

1996
http://www.skeptics.com.au/journal/1996/1.pdf
The Skeptic, Australia, 1996, Vol 14 , Number 1 , p40 and p43 (converted approximately from the pdf original)
p 40
Electronic Antenna or TV-top paperweight?
Colin Keay
How would you like to have a powerful VHF/UHF electronic antenna which "is an enormous success in the United States"? "It pulls in pictures of breath-taking clarity and vibrant colour". "Suits any size TV. Just plug in the back of your set, and the patented electronic circuitry delivers an astonishing picture. No power point needed". "Measuring only 95 x 80 mm, the slimline black case is almost invisible sitting on top of your TV". "Say goodbye to Rabbit Ears" and "Save on Costly Rooftop Aerials" proudly claimed the full-page colour advertisement.
Too good to be true? Then wait... a "handsome goldplate neck chain" is included "absolutely free"! And there's more... you get a chance to enter a $3000 winner-takes-all sweepstake with every order despatched!
For many trusting buyers, the final persuader was the bearer of the advertisement: the back page of the February-March issue of the NRMA's house magazine Open Road.
A senior colleague, who should have known better, sent off a cheque for the required $19.95, plus $4.95 post and handling, to the agent: Sterling Mail Order, 965 Pacific Highway, Pymble, NSW. A junior in the Department, less worldly-wise than his senior, sent away for three of the devices. In each case the vibrant colour frequently reverted to black and white and the breath- taking picture clarity left a great deal to be desired. After considerable fiddling, repositioning, hanging up and laying down, the three devices were abandoned and the Rabbit Ears fetched back from the rubbish heap. The purchaser of the three units returned them, and did indeed get a full refund as the advertisement promised.
The senior man sought our independent advice. His unit was connected to a TV set as recommended in the instructions and it was found that the performance was generally not quite as good as a Rabbit Ear antenna, and definitely inferior to an outside aerial. The first intriguing discovery was that the connecting lead to the TV set was completely unshielded except for the shielded connector! This means that the lead itself functioned as an antenna, albeit inefficiently, with or without the help of the mysterious contents of the firmly sealed device. External examination of the unit revealed no evidence of internal magnetic material, and there was no continuity between the two accessible leads. Was it faulty? There was only one way to find out: perform an autopsy. After some persuasion the owner agreed and, with the aid of a milling machine, the thick bakelite casing was carefully opened up.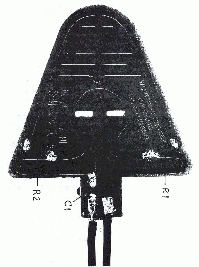 1996 scam 'electronic antenna'

The contents consist of a triangular printed- circuit board bearing a set of three conductive tracks, two 5600- ohm resistors, a 20-picofarad capacitor and an inscription in English and Chinese.
The inscription reads:
WORLDWIDE PATENT
INVENTOR LU. KO-CHANG
in both languages.
The leads are connected to a track similar in shape to a folded dipole antenna, with a small loop at the centre enclosing two parallel prongs along the axis of the board. continued p 43...

...Antenna from p 40
The transverse dimension of the dipole is effectively 70 mm, indicating a resonant frequency well above the highest UHF TV channel. However the second track extends for 120 mm around the forward perimeter and is tapped into the first track through the two resistors, one at each end. This loads the dipole and reduces its resonant frequency to some extent. The third track is completely isolated from the other two and is shaped like a six-element Yagi antenna, 31 mm wide at its widest point. This confers some degree of directivity, but only in the microwave region of the spectrum. The 20- picofarad capacitor appears to serve no purpose other than preventing a continuity check of the unit between the set lead and the shorter second lead which bears a terminal lug provided "for hanging it on the wall".
From the foregoing, the most reasonable conclusion is that the unit is inherently useless in providing the claimed benefits. This verdict was put to the test by connecting the unit to a TV set, adjusting for the best picture that the unit would deliver, and then carefully unsoldering, at the board, the lead to the set. On all channels there was scarcely any reduction in picture quality. In other words, a piece of insulated wire 1.1 metres long can function by itself very nearly as well as the so-called "electronic antenna".
A further test was even more persuasive: the set lead was resoldered to the unit and shorted to the "hanging-up" lead. The performance difference was almost undetectable. This suggests that the most worthwhile function of the unit is when it acts as an anchor-weight for the wire antenna!
One last test was performed. A shielded cable, like from a VCR to a TV, was connected to the two terminals of the unit. This enabled the performance of the unit to be assessed without the set lead behaving as an antenna and clouding the issue. When this was done the performance was extremely poor, except that it became rather more sensitive to direction than before.
So how about the claim that it is an electronic device? The unit contains only passive elements (resistors and a capacitor). It has no active elements nor any power source to activate them. The operation of the device is therefore not electronic within the accepted usage of the term.
The claim that it is "the quick, simple alternative to expensive rooftop aerials" would only be true for homes very close to a TV transmitter. Otherwise simple physics rules out such a claim. The amount of energy picked up by an antenna is generally proportional to the size of its collecting area. A standard VHF TV antenna has a collecting area of several square metres. A good UHF antenna has a collecting area of about one square metre. The Sterling unit, with its small size, has an effective collecting area of at best one- twentieth of a square metre. For AM, FM reception and VHF TV channels, the Sterling unit has a theoretical efficiency of around one percent of that of a good rooftop antenna, worldwide patent notwithstanding. Even a coat-hanger might do better!
It would be interesting to learn the basis of the worldwide patent as labelled on the unit. No patent number is cited. An inquiry has been addressed to Sterling Mail Order, Pty Ltd, and their reply is awaited with great interest. Perhaps this claim is one the NRMA could easily have inquired about.

2005 was
http://www.powerlounge.co.uk/nz_samplePics/Easylife.html


Some more pics of one, firs tthe text about the "advanced curcuitry"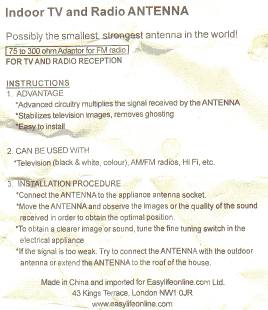 2 halves of the case after being split apart and one view of the board inside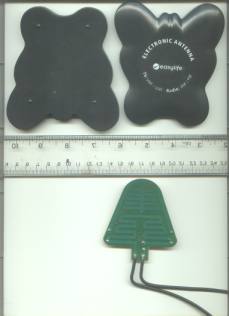 the other side of the board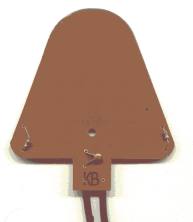 close up of the advanced circuitry


---
Balls !
Is it balls ?
Are the Guardian reader offer mob at it again ?
Guardian 2 , page 21 20 September 2006
Eco-balls , £34.99 for 3 small balls sufficient for "1000 washes" using "ionised oxygen" that has been "scientifically formulated"
Then in the small print "return items unused within 14 days for full refund"
Probably the same 'product' as http://www.ecoballsdirect.co.uk/
Which confusingly says the 'product' is "chemical-free"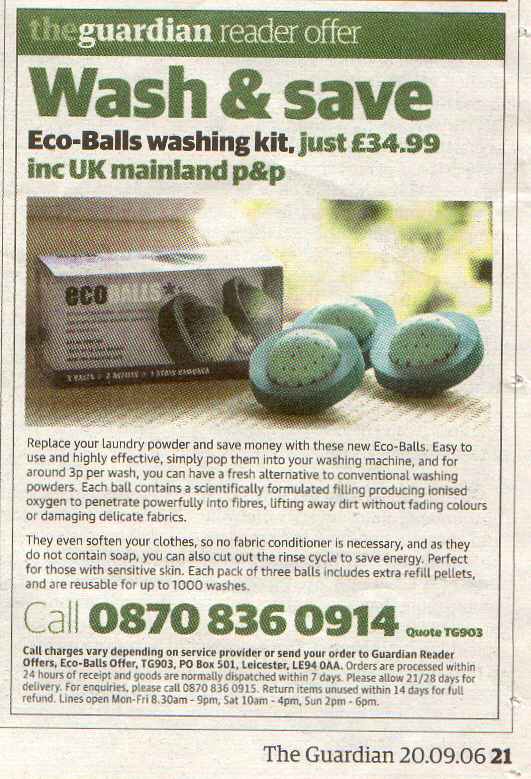 The guardian reader offer
Wash & save
Eco-Balls washing kit, just £34.99
inc UK mainland p&p
Replace your laundry powder and save money with these new Eco-Balls. Easy to
use and highly effective, simply pop them into your washing machine, and for
around 3p per wash , you can have a fresh alternative to conventional washing
powders. Each ball contains a scientifically formulated filling producing
ionised oxygen to penetrate powerfully into fibres, lifting away dirt without fading colours
or damaging delicate fabrics.
They even soften your clothes, so no fabric conditioner is necessary, and as they
do not contain soap, you can also cut out the rinse cycle to save energy. Perfect
for those with sensitive skin. Each pack of three balls includes extra refill pellets,
and are reusable for up to 1000 washes.
Call 0870 836 0914 Quote TG903

And something else you won't find "proven technology to reduce scale build up", page 30, 27 October 2006
Hard time with hard water ?
ScaleWizard Water Conditioner, just £69.99 inc UK p&p -saving £20 on rrp
If you're one of the 60% of UK householders who have 'hard water' -calcium dissolved in the water -then you'll be aware of the problems it can cause. Calcium scale build-up blocks pipes, increases fuel bills (because your boiler wastes energy heating the scale not the water), clogs shower heads and causes marks on taps and basins. In addition, scale makes washing Imachines and dishwashers work less efficiently or - even worse -breakdown entirely. The solution to all this is the ScaleWizard Electronic Water Conditioner fitted to your incoming water mains pipe. Using patented and proven technology to reduce scale build up, there are no chemicals added to your drinking water. Simply plug ScaleWizard into the nearest socket and for around £3 a year (running costs). it will provide complete maintenance-free, scale protection. Supplied with 5 year manufacturer's guarantee.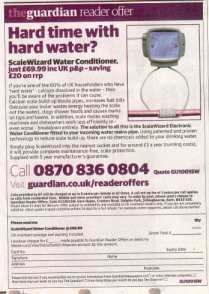 ---
Geopathic Stress neutroliser (sic)
Found thrown away - I wonder why ? Well this is true "The RadiTech uses no electricity itself, except for the indicator lights." There is nothing inside except a switch , a neon and some thick wire, not connected to anything. Over a hundred quid for this.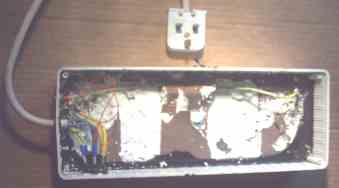 Broken open to reveal this wondrous technology. The core was made of a block of expanded polystyrene covered in brown parcel tape. Around this were wrapped some yellow/green insulated wire, placed in the outer box and covered in epoxy - broken through in this pic.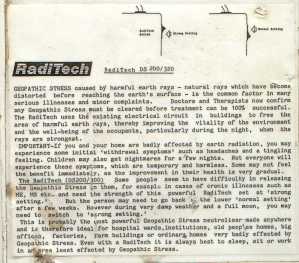 Raditech Switch / Strong Setting / Normal Setting

RADITECH Raditech DS200/320
GEOPATHIC STRESS caused by harmful earth rays - natural rays which have become distorted before reaching the earth's surface - is the common factor in many serious illnesses and minor complaints. Doctors and Therapists now confirm any Geopathic Stress must be cleared before treatment can be 100% successful. The RadiTech uses the existing electrical circuit in buildings to free the area of harmful earth rays, thereby improving the vitality of the environment and the well-being of the occupants, particularly during the night, when the rays are strongest. IMPORTANT - If you and your home are badly affected by earth radiation, you may experience some initial 'withdrawal symptoms' such as headaches and a tingling feeling. Children may also get nightmares for a few nights. Not everyone will experience these symptoms, which are temporary and harmless. Some may not feel the benefit immediately, as the improvement in their health is very gradual. The RadiTech (DS200/30O) Some people seem to have difficulty in releasing the Geopathic Stress in them, for example in cases of cronic illnesses such as ~ ME, MS etc. and need the strength of this powerful RadiTech set at 'strong setting.' But the person may need to go back to the lower 'normal setting' after a few weeks. However during very damp weather and a full moon, you may need to switch to 'strong setting.'
This is probably the most powerful Geopathic Stress neutroliser (sic) made anywhere and is therefore ideal for hospital wards, institutions, old people's homes, big offices, factories, farm buildings or ordinary homes very badly effected by Geopathic Stress. Even with a RadiTech it is always best to sleep, sit or work in an area least effected by Geopathic Strees.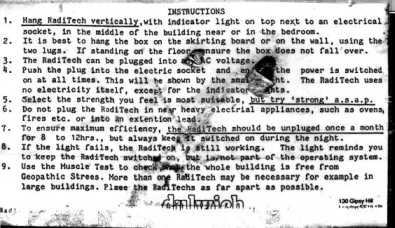 INSTRUCTIONS
1. Hang RadiTech vertically,with indicator light on top next to an electrical socket, in the middle of the building near or in the bedroom.
2. It is best to hang the box on the skirting board or on the wall, using the two lugs. If standing on the floor ensure the box does not fall over.
3. The RadiTech can be plugged into any AC voltage.
4. Push the plug into the electric socket and ensure the power is switched on at all times. This will he shown by the small light The RadiTech uses no electricity itself, except for the indicator lights.
5. 5elect the strength you feel is most suitable, but try 'strong' a.s.a.p.
6. Do not plug the RadiTech in near heavy electrial appliances, such as ovens, fires etc. or into an extention 1ead.
7. To ensure maximum efficiency, the Raditech should be unpluged(sic) once a month for 8 to 12hrs., but always keep it awitched on during the night.
8. If the light fails, the RadiTech is still working. The light reminds you to keep the RadiTech switched on but is not part of the operating system.
9. Use the Muscle Test to check that the whole building is free from Geopathic Strees(sic). More than one RadiTech may be necessary for example in large buildings. Plaee the RadiTechs as far apart as possible.

RadiTechs are made in England by Dulwich Health Society
Promoting Information and Action on Geopathic Stress
130 Gipsy Hill
London SE? ?
Tel: 01-670 5883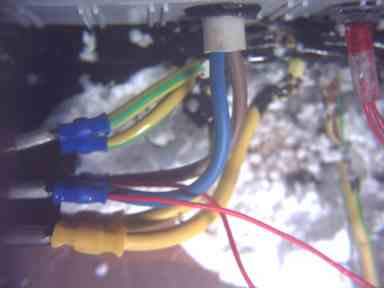 Revealing the neon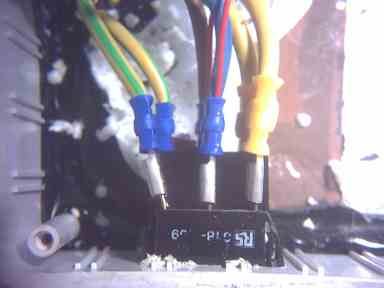 Revealing the switch and the two grades of wire , one pair for high setting , and one pair for normal. Just wires, not going to anything, just 4 wires only connected at the switch.
---
May as well go here as putting most of these numbers in search engines produced nothing
Collection of CLI telephone number identities of various junk callers, random diallers, time wasters, silent caller lowlifes, junk fax senders etc
0012122452670 The greatly pleasing factor about these particular timewasters is , if you quietly lay your receiver down , they cannot break the line, you come back half an hour later and someone is still trying to "hang up " on their end, along with the usual battery cage hubub.
0012697682672
0116 2471600
0121 3215650
0131 3012940
01392 678953
0141 9551994
01422 232380
01422 284250
0161 2363285
01702 390531
01767 312223
01772 250027
01772 203711
01789 99999999
01800 3519582
01800 3519583
01800 3519587
01800 3519598
01942 681444
02075 714293
02078 562227
02078 908912
02088 618682
02380 339716
02392 322389
02890 322244
02898 626595
02920 465400
08000 191773
08000 285085
08003 289393
08003 519578
08003 519582
08003 519587
08009 524851
08453 716901
08452 860000
08704 441780

Talking of scams, what they aren't telling you about DNA profiles and what Special Branch don't want you to know.
DNA profiles
or nutteingd in a search engine.

Email but ( removing 4 of the 5 dots )
or email Paul Nutteing, remove all but one dot
Or a message on usenet group uk.legal has got to me recently a couple of times.


Visits to this site? See www.onlinecount.com

Powered by counter.bloke.com